Two new investments as well as disposals and acquisitions mark the changes in our portfolio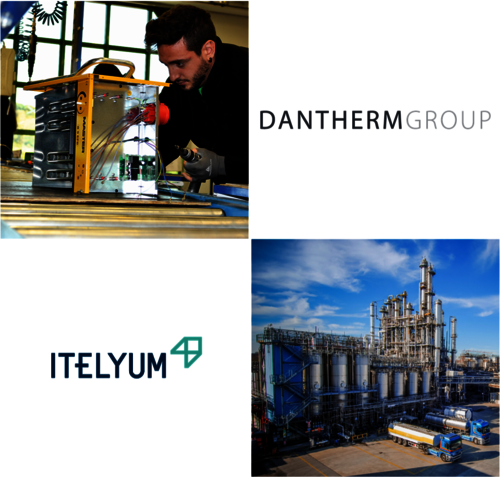 At present, Deutsche Beteiligungs AG's portfolio comprises 31 companies. Whilst promising new investments are being acquired, others are being realised after a successful development. As has been the case for many years, lively M&A activity has been seen on the level of the portfolio companies, as acquisitions have become an integral part of the value appreciation strategies for the majority of portfolio companies.
Dantherm will internationale Buy-and-build-Strategie fortführen
With Dantherm, DBAG is investing in a company that has grown strongly in recent years, not only organically but also by way of around 20 acquisitions. In most of the cases, the various brands in question – most of them deeply rooted regionally – have been maintained. This strategy is set to continue. The European market for the company's products – mobile and stationary devices for heating, ventilation, cooling, drying, and air cleaning – is still highly fragmented.
Dantherm has become one of the leading providers in this market, whose growth is driven by climate change and the wellness trend, as well as stricter regulations for more efficient energy use. Products include mobile dehumidifiers for restoration following water damage, air purifiers to help protect against viruses, heaters and climate control solutions for swimming pools, industrial applications, and residential ventilation. As extreme weather and the corresponding consequences are on the increase, health awareness is growing and occupational safety is enjoying greater priority. Demand for such equipment is rising reliably by four to six per cent per annum without major fluctuations. At 30 per cent, the DACH region (Germany, Austria and Switzerland) accounts for the majority of sales. A further 20 per cent is generated in the Scandinavian countries. Dantherm products are distributed in over 50 countries worldwide. Headquarters are in Denmark, and there are also production sites in the UK and Italy, making the company a true European player.
Itelyum recycles complex industrial wastes, and is set for further growth
In 2020, DBAG and its funds expanded investment activity to Italy, where a second transaction was structured in August 2021. Itelyum is a particularly forward-looking investment in DBAG's traditional core sector of industrial services. The group is a leading European circular economy player, specialised in recycling complex streams of hazardous liquid waste. Its companies collect, analyse, store and process contaminated waste waters, emulsions, mineral oils or batteries, amongst other products, leveraging unique chemical procedures for waste oil re-refining and solvent purification. Itelyum meets the demand of industrial companies that need to comply with increasingly strict waste regulations and achieve higher recycling rates. The group pursues a clear sustainability strategy: its services save 500 kilotonnes of CO2 emissions, 1,000 tonnes of air pollutants and 15 million cubic meters per year, as well as preventing 400 hectares of land consumption.
DBAG wants to accompany Itelyum on its growth path alongside majority shareholder Stirling Square, and to benefit from the group's market leadership, leading technical expertise, and its comprehensive acquisition pipeline. The goal is to expand Itelyum's European footprint, which will also involve company acquisitions in Germany.
Fire Holding agrees upon another company acquisition
When the partnership with DBAG started in August 2020, in the midst of the pandemic, Edward Skube, chairman of Multimon AG's management, saw his company's market "in motion". One year later, Multimon's new name is Fire Holding and the company has increased its revenues – by a way of an acquisition – from around 90 million euros to more than 140 million euros. Meanwhile, another acquisition has been agreed upon, which will see the company's revenues grow to more than 200 million euros. Under its roof, Fire Holding unites market-leading international providers in structural fire protection, managing projects involving (mostly turnkey) fire protection systems for buildings. The systems are predominantly installed in high-rise buildings, shopping centres, warehouses, production plants, logistics centres, underground car parks, or listed buildings. The company's key know-how lies in the efficient conception, installation and maintenance of the systems, in line with existing regulations. Fire protection regulations are becoming tighter; installed systems must be maintained regularly and retrofitted if necessary. Furthermore, the market is growing and becoming increasingly attractive. Through company acquisitions, Fire Holding's product range has been completed, adding new regional markets in Europe to its footprint.
operasan completes purchase of another medical care centre
Spun off from blikk radiology group in January 2021, operasan offers nephrological treatment including dialysis, either through cooperation with private practices or in its own medical care centres. The goal is to ensure high-quality patient care as close as possible to the patient, preferably in the home or at a nursing home. In August, operasan completed its second purchase, buying a medical care centre in Göttingen with four practices and around 180 patients. This has raised the number of dialysis patients served to around 500. And operasan aims for further growth: their goal is a network serving at least 2,000 patients – not only in operasan's own medical care centres but also through cooperation with private practices.
DBAG and DBAG Fund VII have provided further funding for the acquisition, increasing their exposure in the healthcare growth sector – a stable market with a predictable environment.
Re-investment in blikk to achieve further value contributions
The partial disposal of blikk radiology group, agreed upon in early July, has now been completed. [Link to press release ] DBAG and DBAG Fund VII have very successfully sold their shares in blikk to an infrastructure fund. This fund has not only acquired blikk but also another radiology group, which also had been developed by a financial investor. The new shareholder is planning to merge the two groups, thereafter providing necessary funds to accelerate investment in technology, innovation and talent, in order to create a market leader.
Such a merger would improve medial excellence, increase capacity in adjacent specialist areas, and advance an ambitious digitalisation agenda. The transaction is based on the rationale that in the particularly capital-intensive field of radiology, only large providers can finance and offer excellent medical care.
With the partial disposal, DBAG receives the first proceeds from DBAG Fund VII, which has structured nine MBOs since 2017; another MBO resulted from spinning off a division of one of the Fund's nine investments. DBAG sees good development opportunities for the new and enlarged radiology group, and has therefore re-invested a major share of the realised proceeds.
Telio successfully sold, after strategic repositioning
Since the start of the investment in Telio more than five years ago, the telecommunications and software company has tripled its revenues. Next to organic growth, revenue growth (with a CAGR in excess of 22 per cent) has also been driven by acquisitions, for which DBAG and DBAG Fund VI twice provided additional funds. Telio has entered new regional markets and has significantly expanded its product range. It started off with developing, installing and operating communications and media systems for correctional facilities. Its telephones and related systems in prisons allow inmates to make monitored calls, thus simplifying day-to-day work for the prison officers and providing a material contribution to the reintegration of inmates into society. The acquisition of technology that detects and prevents the illicit use of mobile phones in correctional facilities launched Telio's strategic repositioning. In addition, the company is increasingly focusing on digital solutions, including the areas of video telephony and e-learning.
Telio's good development allowed DBAG to sell it to a British financial investor in mid-June. This transaction is the fifth exit of an MBO in DBAG Fund VI's portfolio. The Fund structured eleven MBOs between 2013 and 2016. It was with DBAG Fund VI that DBAG began investing outside traditional industrial sectors; Telio is one of the MBOs from new growth sectors. To participate in further value appreciation, DBAG and DBAG Fund VI are seeking a re-investment in the company.