We assume responsibility for the impact our decisions have on others – now and in the future. We align our actions and behaviour accordingly in the way we manage our Company, and especially in the way we carry out the investment process in (as well as the development and later disposal of) our portfolio companies.
For us, sustainability means achieving a longterm increase in DBAG's value, taking ecological, social and governance criteria into account.
Sustainability as a corporate objective
Entrepreneurial success – for Deutsche Beteiligungs AG as an investor and fund advisor, or for our portfolio companies – will only be possible if sustainability is firmly anchored within the corporate strategy. We have therefore performed an in-depth analysis to identify possible fields of action, isolating sustainability topics with a direct or indirect impact on the financial situation or operating performance, at least in the medium term, by way of a materiality analysis. We aim to take these topics into account within our Company management. The insights gained from this process are helping us refine our "Guideline on Sustainability and Responsible Investment" which addresses both the integration of the principles for responsible investing in our investment process as well as corporate governance issues.
Key performance indicators
We have defined non-financial key performance indicators (KPIs) for DBAG and our portfolio companies which serve to measure the progress made in the respective fields of action and facilitate appropriate management. These non-financial KPIs for ESG criteria will become part of regular reporting and make the sustainability of our business model and progress in these areas more visible.
Our general key performance indicators concern key challenges:
reducing or avoiding greenhouse gas emissions
reducing or avoiding accidents in the workplace
improving employee satisfaction
promoting gender parity and diversity
preventing compliance breaches
Environment: Focus on greenhouse gas emissions
Social: Safe working environment, high employee satisfaction and gender parity
Corporate governance: Zero tolerance for non-compliance
Environment: CO2 emissions from business activity
Social: Focus on employee satisfaction
Compliance: Zero-tolerance approach
Commitment to local reforestation project
We have decided to participate in reforestation work in the Hessian state forest as part of the "Our Forest" reforestation campaign and will finance the reforestation of 6,000 trees. A climate-robust mixed forest of noble trees will be planted on an area of around 4.5 hectares in the Maibach district of the Weilrod forestry office in the Taunus. In this way, we are creating a carbon sink for the future: when this area has grown up in around 30 years, around 45 tonnes of CO2 can be stored there annually through the corresponding increase in wood. The project aims to help accelerate the development of a climate-stable forest. In November 2022 the DBAG team planted around 500 trees, bushes and shrubs in the Taunus.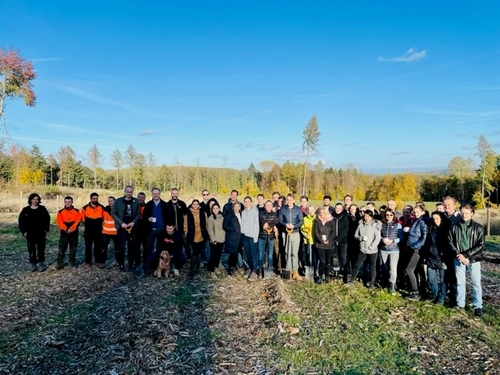 Commitment to responsible investment
We invest the funds of our shareholders and of the DBAG fund investors, and we become shareholders in companies with a large number of employees. What is more, we bear a responsibility towards other parts of society and the en vironment. In order to underscore this responsibility, we have committed ourselves as an investor and fund manager and advisor to bindingly comply with the Principles for Responsible Investment ("UN PRI") that were defined jointly by investors and the United Nations. As a signatory to the six Principles for Responsible Investment, we will in future report annually on our investment activities according to a fixed scheme.