24 acquisitions since the start of the financial year / Further transactions agreed upon
Acquisitions expand the range of products and services, the regional coverage and technological capabilities, but they also diversify the customer base. This can reduce dependence upon individual customer industries in some cases, but it almost always supports organic growth. Acquisitions can also help consolidate markets – and thus improve a company's competitive position: "buy and build" has long been by far the favoured value appreciation strategy for private equity companies.
The same goes for Deutsche Beteiligungs AG. From October 2021 to the start of September 2022 – shortly before the end of the financial year – 24 such transactions have been concluded. Almost one-third of DBAG's current 39 investments made one or several acquisitions. In some cases, such transactions are producing landmark changes, for example at Dieter Braun or Cloudflight, or at Dantherm, an MBO executed by DBAG Fund VIII in November 2021. We reported on these transformative transactions in June 2022.
DBAG's investment team has supported several portfolio companies in acquisitions during the past summer weeks.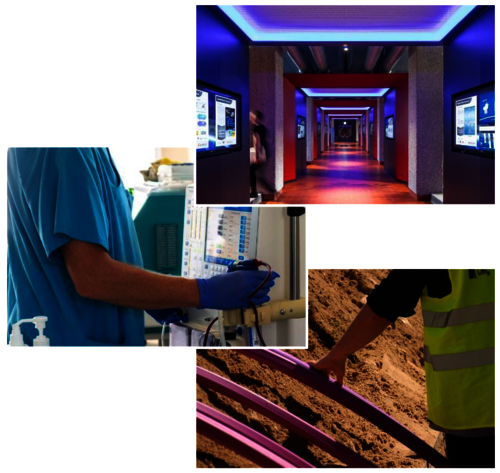 The healthcare platform operasan(DBAG Fund VII) is continuing its buy-and-build strategy: operasan now serves around 1,050 dialysis patients and more than 15,000 patients in its out-patient renal clinics. The six acquisitions agreed or concluded since the platform was acquired in May 2019 have contributed to this. Most recently, two kidney and dialysis centres in St Wendel (Saarland) and Kamen (North Rhine-Westphalia) were acquired, where around 200 patients are regularly cared for. More transactions are planned, as operasan aims for further growth. Their goal is a network serving at least 2,000 patients – not only in operasan's own medical care centres but also through cooperation with clinics and private practices. Measured against the year prior to acquisition by DBAG Fund VII, revenues are expected to increase approximately fourfold in the current year.
netzkontor(DBAG ECF II) is the holding entity for a group of companies specialising in the planning and installation of telecommunications/fibre-optic networks and connections. With four completed acquisitions in the past twelve months, the Group will reinforce its position in certain regional markets, strengthen important customer relationships and secure further capacity. Two additional acquisitions were agreed in August, which also aim at further growing the company's regional presence and strengthening customer relationships. Since the start of the investment in January 2018, these have been acquisitions numbers ten and eleven. Measured against the year prior to acquisition by DBAG ECF II, revenues are expected to increase sevenfold in the current year.
After three strategic acquisitions in November 2021, Cloudflight (DBAG FUND VII) has developed from being a software specialist to a full service provider for digital transformation in the Germany, Austria and Switzerland (DACH) region. In August, the company moved another step closer to its objective of building a European champion with the acquisition of a provider of digital transformation consultancy and individual software development services. mobile agreements GmbH ("mogree") was founded in 2009 and today has around 60 employees in Linz, Austria. A second location is currently being set up in Graz, Austria, and is scheduled to open at the end of the year. Artificial intelligence is one of the company's areas of specialisation: its customers include European blue-chip companies. In the context of the mogree acquisition, Roger Kehl, CEO of Cloudflight, highlights an aspect that is increasingly gaining importance: "With this acquisition we are also strengthening our recruitment, as the partnership increases our presence and reach in Austria – also with a view to finding new talents." Following completion of the transaction, Cloudflight now employs around 1,000 staff at more than 20 locations in five countries.