Heavy consumers of electricity and gas only account for a small share of DBAG's total portfolio
The extreme rise in energy prices is placing the entire German economy under increasing pressure, with energy-intensive industries especially suffering. Inevitably, DBAG's portfolio companies are by no means immune to these developments – looking at the total portfolio, however, only a handful of investments are significantly affected. This includes two foundries whose production requires particularly high levels of energy. Portfolio companies with very high electricity consumption only accounted for six per cent of DBAG's aggregate portfolio value as at 30 June 2022; those with heavy gas consumption just three per cent.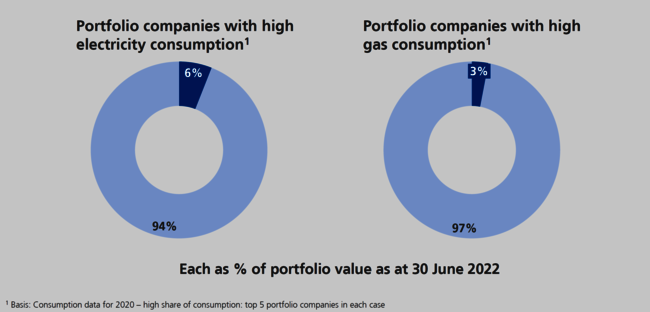 All companies are actively working on measures to keep their own energy consumption as low as possible. In order to safeguard supplies to customers, intensive efforts are being made to ensure companies pass on the higher purchase prices to their respective sales markets. And rising energy prices of course mean growing working capital needs: energy-intensive businesses are thus facing challenges in securing financing. However, the extent to which sales pricing adjustments and amendments to payment terms can be realised depends upon a company's market position in particular, as well as on the general market situation. If competitors in other countries are benefiting from lower factor costs, customers might well switch to other suppliers. Nevertheless, this would only affect individual companies; moreover, such effects would not be immediate. There should be time for firms to make corresponding adjustments where possible.
Torsten Grede, Spokesman of the Board of Management of Deutsche Beteiligungs AG, voiced his concerns: "Should energy costs for German industry remain at elevated levels over the medium to long term, this could present a sustained threat to Germany as an industrial hub."