Under the motto "Driving innovation: Together into the digital future", Deutsche Beteiligungs AG hosted its seventh Executive Circle. The exclusive event invites personalities from the business world and offers opportunities for networking and personal exchange as well as exciting lectures.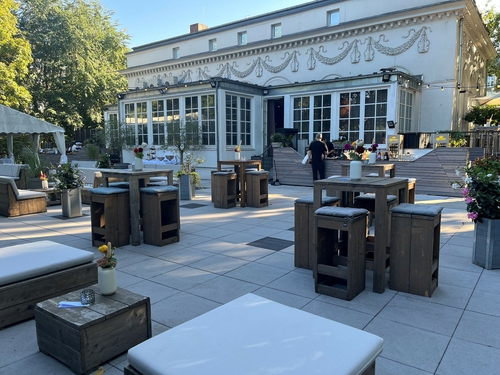 The latest edition of the Executive Circle took place in Frankfurt am Main at "Le Panther" and offered the more than 100 invited guests a classicist flair against a contemporary backdrop. The highlights of the event were inspiring contributions, starting with an exciting talk by Tom Alzin, Spokesman of the Board of Management, Jannick Hunecke, Member of the Board of Management, as well as Thomas Weber, Managing Director and responsible for Business Development (all persons are part of DBAG). The core topic of the event was DBAG's performance to date in the current 2022/2023 financial year, which has been positive, even though the "current market situation is challenging. Especially in the light of the current hurdles, our good results are all the more pleasing. This shows once again that our diversification in terms of sectors and geography, which we planned long ago, was correct and once again documents our ability to create value," explains Jannick Hunecke. This strategy must undoubtedly be supported and implemented, in this respect it requires a resilient team with complementary qualities. Hereby, DBAG can rely on its most valuable asset: its creative, well-trained and motivated team. Nevertheless, "[...] access to qualified personnel remains a challenge for many companies [...]", Tom Alzin sums up.
Nine successful transactions in the current 2022/2023 business year
Even though the current macroeconomic situation brings challenges such as a demanding interest rate environment, the mid-cap sector is enjoying brisk activity, driven primarily by DBAG's latest transactions. These include new additions to DBAG's portfolio such as Avrio Energie, one of the leading biogas platforms in Germany, AOE, a service provider for agile software development with a focus on customised enterprise solutions, and TBD, a specialised service provider for critical infrastructure. In addition, DBAG was also active with regard to disposals and was able to successfully realise several sales at once. In the current financial year 2022/2023, these were Heytex, Pmflex, Cloudflight, BTV Multimedia, and most recently the R+S Group. The latter was sold to NOKERA AG (NOKERA), a producer of buildings in serial and sustainable construction. Part of the proceeds from the sale was reinvested in a minority stake in NOKERA in order to participate in the attractive growth of the market for serial construction and serial energy-efficient refurbishment of buildings.
Looking ahead, Jannick Hunecke and Tom Alzin expect "again meaningful investment proposals" and "[...] the focus on ESG as well as investments with a technology and/or digitalisation background will continue to play an important role [...]".
Beyond this interesting exchange within the ranks of DBAG, Dr Hannes Ametsreiter, former CEO of Vodafone Germany, shared his view on Germany's efforts regarding digitalisation. His presentation took place under the heading "Mastering technologies for a better future". Even though, in Dr Ametsreiter's opinion, some significant steps have already been taken, especially in the area of infrastructure development, massive progress is still needed on the path of digitalisation. First and foremost, this includes the nationwide roll-out of a 5G network, which is the cornerstone of digitisation. The advantages of this are obvious; application examples for the Internet-of-Things are finding their way into many relevant areas: among other things, energy savings of up to 30 percent are possible in buildings, which are achieved through the intelligent control of heating systems, among other things. Thanks to real-time data, cooling chains can be controlled more efficiently, and future technologies such as autonomous driving also require the use of 5G. In addition to the mobile data technology 5G, however, the further expansion of the fibre optic network is also of enormous importance in order to advance digitalisation. This is an area that DBAG portfolio companies vitronet and Netzkontor, among others, have dedicated themselves to. A global evaluation of the status quo with regard to fibre-optic expansion paints a sobering picture: In a comparison of the competition, based on 84 countries, Germany ranks in the top 15, although among the countries with the weakest expansion. In the overall ranking, Germany is in 73rd place, just behind Costa Rica.
Beyond the advantages of a faster data transmission standard, Dr Ametsreiter also describes the benefits of smart energy management and sees battery electric vehicles (EVs) as an undervalued energy supply option. Market projections predict a volume of nearly 67 million EVs sold between 2020 and 2030. Based on the assumption of an average battery size of 74 kWh, there would theoretically be nearly 5,000 GWh available - roughly equivalent to the annual electricity consumption in Frankfurt am Main, home to more than 760,000 people and the largest internet hub in the northern hemisphere.
In summary, this edition of the DBAG Executive Circle once again offered many exciting insights from industry experts and stimulated an interesting exchange. We thank all participants and look forward to the next gathering.