The Italian mid-market segment excels with a strong competitive advantage
The Italian market is highly attractive for the private equity sector, mainly because of its renowned sectors such as high-tech, fashion, design and FMCG (Fast Moving Consumer Goods). These industries have succeeded in manufacturing top-quality products and in honing their procedures for centuries. The Italian mid-market segment therefore has a substantial competitive advantage.
Further to our contribution from last September, in which we analysed the period covering 2021 and the first half of 2022, the Italian private equity market remains very active, while around 30 per cent fewer private equity investments were concluded in Germany during the same period. The number of investments in Italy involving deals with a volume of 50 up to 300 million euros has remained unchanged, emphasising the robustness of the Italian market. Italy's mid-market environment is similar to that in Germany and serves as an important pillar for the economy. And it is precisely in this segment that DBAG has considerable expertise and enjoys a strong reputation. In this respect, we feel we are well positioned to further expand our activities in Italy.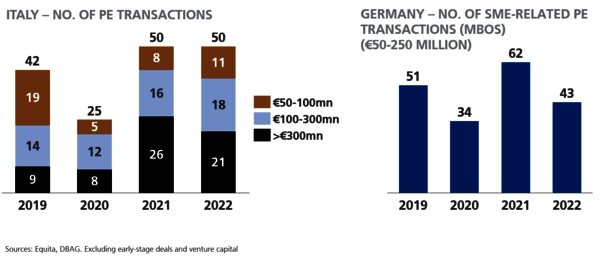 Although the Italian private equity market now equates to 60 per cent of the German market, it is relatively small compared to other European countries. However, it offers great opportunities for investors, especially given the strong degree of specialisation and competitive advantage of the owner-operated mid-market enterprises.
Besides traditional sectors such as industrial goods and services, the luxury industry is an important economic sector in Italy and a symbol of Italian craftsmanship and excellence. Many of these companies are family-run and have specialised in specific niche products that are defined by a production technique that has evolved and been perfected over the years. An example of the industry and industry tech sector is Pmflex, the leading European manufacturer of electrical installation conduits. In its two factories in Lombardy, the company extrudes several hundred thousand kilometres of plastic pipes per year, mainly from halogen-free polypropylene. Just under one-third of production comprises pre-wired conduits fitted with a wide range of cables, mostly for electricity supply but also for telecommunications, networks and alarm systems. The pre-wired conduits significantly shorten installation times for electricians, therefore offering cost benefits for new construction and renovation projects alike. DBAG and DBAG Fund VII – advised by DBAG – successfully realised the investment in Pmflex in January 2023 and sold their stake to Hager Group. This specialisation and expertise of Italian companies creates a huge competitive advantage. A great deal of expertise and skills, which are often passed down from generation to generation, are needed to manufacture these products. Italian SMEs are therefore able to offer top-quality products at a premium price, which in turn leads to high margins and a strong market position.
However, these skills also require ongoing investment in research and development in order to remain competitive. This is precisely where private equity has excellent opportunities to provide support – by investing capital, by offering access to networks, and by moving certain levers.
A case in point for a private equity investment in Italy is DBAG's portfolio company MTWH, a manufacturer of applications for the luxury goods industry. The company's ability to develop high-quality products based on design ideas within a short timeframe is critical to its success. Another decisive factor is the proximity to luxury brands from Italy and France. The group employs 250 people at its locations. A branch office was opened in Paris to further strengthen business relationships. The group serves a market which has grown globally at an average rate of six per cent over the past 25 years.
"Italy is an extremely exciting region, and the luxury goods sector in particular is very interesting, especially given its resilience in the face of challenges and the fact that it is growing at a faster pace than the GDP. In this respect, we will continue to focus on the Italian market and take advantage of the potential it offers", said Tom Alzin, Spokesman of the Board of Management of Deutsche Beteiligungs AG.