LPX launches periodic publication
Making private equity available to everyone: some call it the "democratisation" of private equity when PE companies and investment trusts go public. This opens up access for all investors to interesting investment strategies, outstanding companies, or entire sectors otherwise not represented on a stock exchange. Investors can thus benefit from diversification, access to companies which are in a period of strong growth, and the work of PE managers with a clear value-adding strategy.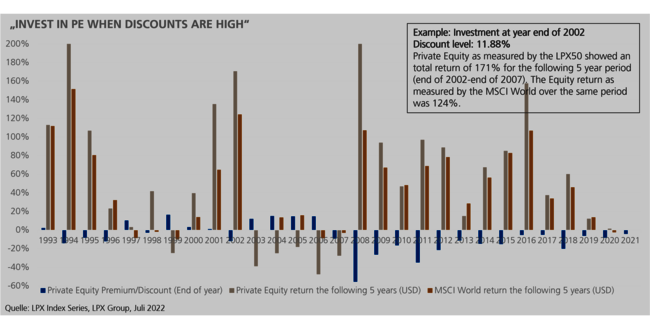 This idea has been received very well: the market capitalisation and number of listed companies are clearly trending upwards. The listed private equity market has seen continuous growth over the past twenty years. At the end of May 2022, the global market capitalisation of liquid listed private equity companies stood at around 332 billion euros, marking a five-fold increase in the last ten years alone.
Germany has also seen some PE companies going public; and Deutsche Beteiligungs AG, which has been listed on the Frankfurt Stock Exchange since 1985, has long since ceased to be a rarity.
Swiss research house LPX now offers more information about this sector, having launched the Listed Private Equity Barometer to provide detailed, data-based insights into the global listed private equity market. The Barometer will be published on a quarterly basis and provide an overview of valuations, performances or ESG aspects, for example, and is based on LPX's indices, which can be considered standard benchmarks for the private equity asset class. Some of these indices, e.g. LPX50 or LPX Europe, also include the DBAG share.
Founded in 2004, LPX analyses alternative asset classes. Initially, it focused on private equity, before it started looking into infrastructure and private debt as well. The company offers a broad range of services to investment professionals based on comprehensive research data, covering the global listed private equity universe.