Team well staffed – network delivers high proportion of proprietary situations
The news received more attention in Italy than in Germany, but it didn't come as a real surprise to many when, in September 2021, DBAG opened a Milan office. After all, the company had already conducted a lengthy phase of market exploration and made its first investment on the Italian market the year before. "The decision to set up DBAG Italia came partly from our observation that many competitors of DBAG portfolio companies are Italian entrepreneurial businesses," says Giovanni Revoltella, DBAG's partner responsible for Italy, of the expansion. "Most of these companies are SMEs run by their founders – which is also typical of the German Mittelstand, where DBAG built its name. So this was a natural extension of the successful strategy that made DBAG one of the most sought-after investor in the European mid-market."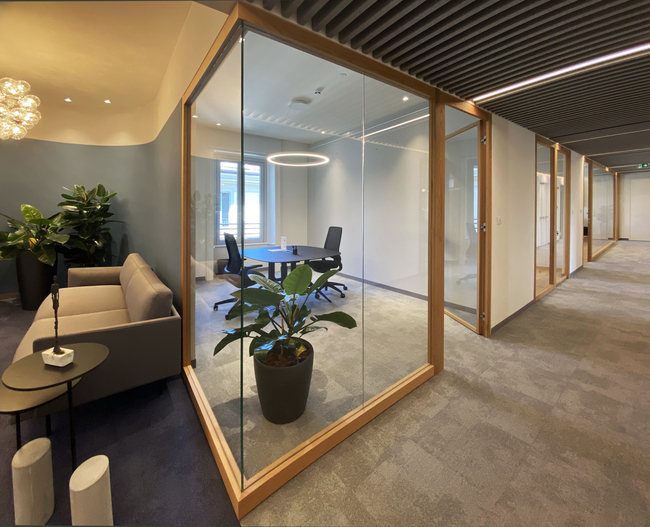 Today, one year later, DBAG's portfolio counts three Italian companies that exemplify DBAG's investment strategy in Italy. pmflex, a manufacturer of empty or pre-wired conduits for electrical cables, was the first investment. The founding family sold its shares in September 2020 to DBAG Fund VII, which is advised by DBAG. Since then, the company has performed exceeding initial expectations, with revenues increasing by around 40 per cent since entry. pmflex is producing at full capacity, and investments are planned to further expand production capacity.
Itelyum, another co-investment with DBAG Fund VII, specialises in recycling complex liquid industrial waste using unique chemical processes. The company is a technology and market leader in most of its areas of activity: regeneration of waste oils and solvent purification, as well as management and recycling of industrial waste. As a single-source supplier of proven services and processes, Itelyum targets industrial companies looking to comply with increasingly strict waste regulations and achieve higher recycling rates. DBAG aims to contribute its experience in order to support the inorganic growth of this sustainability champion and to guide the company through the expansion of its European business. The first two acquisitions have been agreed upon, and further transactions are in the pipeline. Revenues are also growing nicely apart from the acquisitions.
The same holds true for MTWH, DBAG's most recent Italian investment, which it entered into alongside DBAG Fund VIII. MTWH produces metal accessories for the luxury goods sector. Typical products include belt buckles, clasps and fittings for handbags, shoes and clothing, alongside jewellery or logos for iconic – and predominantly global – brands. The secret to the company's success is its ability to develop ready-to-use high-quality products based on customers' design ideas within only a few days. Its proximity to Italian and French high-end fashion brands with a focus on innovation and creativity is another bonus. The MTWHGroup has facilities near Bergamo and near Florence and recently established a branch office in Paris to strengthen business relations with French luxury brands. This investment is also meant to develop further through inorganic growth, and two company acquisitions are currently in the advanced stage.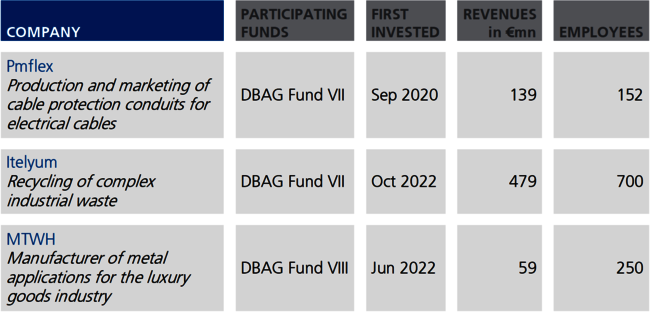 DBAG Italia has put in place a numerous team in the Milan office. Alongside Giovanni Revoltella, who spent twenty years structuring Italian investments and an office manager, the Milan office was joined in March 2022 by three investment professionals. Colleagues from Frankfurt support the team based in Milan, just as Milan offers support when a German investment wishes to expand in Italy. In addition, Antonio Corbani, a veteran of the Italian private equity industry, continues to support DBAG as senior advisor.
The deal flow is promising, due in part to the well-established advisory network. Years before the opening of the office in Milan, DBAG had already begun to forge network ties. According to Managing Director Giovanni Revoltella: "We expect to be able to review more than 150 investment opportunities a year in Italy." He and his team completed the move into DBAG Italia's permanent office in March 2022, in a building steeped in tradition on Via Gaetano Negri, near the Milan Duomo. In the seven months from March until the end of July, the beginning of Italy's annual August holiday break, roughly 90 potential transactions were identified. A third of these are the result of various initiatives based on proprietary contacts. "We strongly believe that our experience and contacts in B2B businesses will be a differentiating factor in being able to select appealing success stories for the coming years. We see a tremendous opportunity in teaming up with ambitious entrepreneurs and managers in order to strengthen companies based in Italy that would like to become the global champions in what they do."