Slight decline in value and number of transactions
Share of primary transactions increased
Heavy competition through strategic investors
DBAG one of the most active investors
Frankfurt am Main, 27 January 2016. Financial investors' key focus has been on industrial companies. In 2015, chemical companies, automotive suppliers, mechanical and plant engineering companies, as well as the related industrial services providers accounted for about half of all management buyouts (MBOs) in Germany's "Mittelstand". Overall, the MBO market this past year declined slightly: the volume invested fell from 3.2 billion euros in the previous year to 2.7 billion euros; the number of transactions reached 30, following 31 in 2014.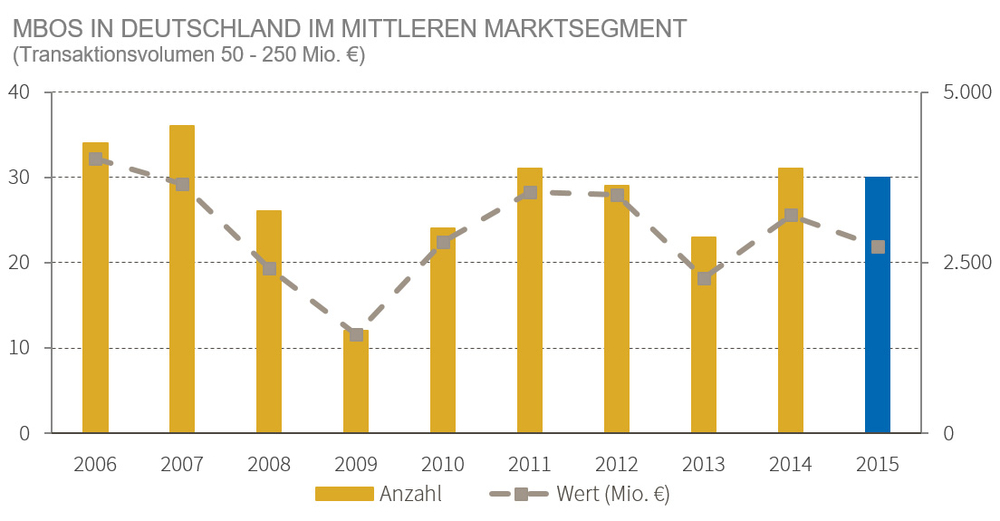 his is documented by the data issued today by Deutsche Beteiligungs AG (DBAG). The statistics relate exclusively to majority takeovers by financial investors, in which the target company's management co-invests and which have a transaction value of 50 to 250 million euros for the debt-free company. The data is based on publicly accessible sources as well as on estimates and own research by DBAG in collaboration with FINANCE magazine.
The German MBO market is still characterised by a high proportion of primaries – buyouts in which a financial investor invests in a company for the first time. Compared with the preceding year (19 out of 31 transactions, 61 percent), that proportion has increased once again.
Mid-market MBOs in 2015
Target
Vendor
Financial investor
Rameder
Riverside
Findos
Rhenoflex
ICL
Findos
Polo Motorrad
Paragon, Tempus Capital
Equistone
Bike 24
Company founder
Riverside
Prae-Turbo
Founding family Jung, Reiner Wahlers
Halder
Rena
Creditors
Capvis
E.I.S. Aircraft
Private shareholders
EQT
Polytech-Domilens
Odewald
Stirling Square
Anti-Germ & Medentech
ICL
Paragon
Cleanpart Group
Jörg Hohnloser
Deutsche Beteiligungs AG
Faist Chemtech
Findos
L-GAM
Parship
Holtzbrinck Ventures
Oakley Capital
Sport Group
IK Investment Partners
Equistone
Eucon
Company founder
HgCapital
Deurotech
Former shareholders
Hannover Finanz
Rhodius
Nord Holding, BayBG
Equistone
Artemis
G Square Capital
Montagu
Interschalt Maritime Systems
Reederei Döhle, Gärtner Consulting
DPE Deutsche Private Equity
Rovema-Gruppe
Former shareholders led by Thomas Becker
Equita
Silbitz Group
VTC Partners
Deutsche Beteiligungs AG
Dorea
Deutsche Klinik-Union
Quadriga
Tri Style Mode
Primondo Specialty Group,
Wirth Beteiligungen
Equistone
EMP Merchandising
Former shareholders
Sycamore
Leuna-Tenside
Kiril Matteew
VR Equitypartner,
BIP Investment Partners
Flabeg Deutschland
IK Investment Partners
Sun Capital
KFZ-Teile 24
Matthias Kieper, Torsten Hainke
EQT
Matrix42
Asseco Poland
Emeram
Telio-Gruppe
Private shareholders
Deutsche Beteiligungs AG
LAP Laser
Private shareholders
Capiton
Diva-e Digital Value Enterprise
Various former shareholders
Emeram
"The high rate of primary transactions attests to the attractiveness of the German private equity market", said Torsten Grede, Spokesman of the Board of Management of Deutsche Beteiligungs AG, commenting on the latest data. "The structure of our economy with its strongly globalised "Mittelstand" differs from that of other countries", Grede said. "The many companies that are leaders in their markets thanks to their product excellence attract strategic investors", Grede went on to say. "In that scenario, investors from the US or China, for instance, compete with financial investors for attractive industrial companies, including ones from financial investors' portfolios." These target companies then do not turn into a secondary buyout, something that occurs in France to a much greater degree than in Germany. "That dampens the growth of the German private equity market."
For 2016, DBAG assumes that there will be little change in the competitive environment. "Germany is one of the top destinations the world over for investments", said Spokesman of the Board of Management Grede; this and the associated implications, such as rather steep prices, are unlikely to change in the near future."
Deutsche Beteiligungs AG completed three transactions in 2015 and, as in 2013 (three out of 23 transactions) and 2014 (four out of 31 transactions), was one of the most active financial investors in Germany's mid-market segment. Over an extended period of time, DBAG with its funds has also been among the leading sponsors in its market segment. In the past ten years, only one competitor has more transactions to its account than DBAG.