A mix of personal meetings and video conferences
It is not enough for us to be convinced of what we do and the opportunities our business offers: to strengthen our relationship with existing investors, they need to be kept up to date about recent developments at the Company. And for capital markets to believe us and put their trust in us, open and consistent communication is a must. Attracting new investors requires meetings with as many potential investors as possible: fresh investors in the DBAG share drive the share price up and increase the share's liquidity. With this in mind, DBAG already has a full financial calendar in the second half of the year.
The round of meetings kicks off with talks in London, Paris and Madrid in the first week of July which will take place in a virtual format, as will the exchange of views at the end of August with existing and new investors in Germany, Scandinavia and Switzerland. "We have learned to appreciate this format in recent years, since it allows us to reproduce the objectives of European business travel virtually without spending unproductive time at airports, in planes or on congested inner-city roads," explains Roland Rapelius, Head of Investor Relations at DBAG.
In August, discussions will already be based on the third-quarter figures as at 30 June 2022 – publication of which is scheduled for 11 August 2022.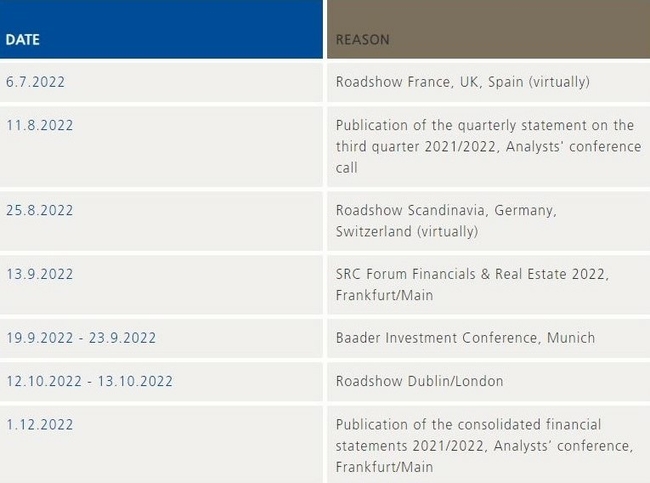 "Despite the efficiency of virtual roadshows – and not to forget, lower use of resources – we wouldn't want to miss out on personal meetings," Head of IR Rapelius adds. After all, ties grow stronger and relationships intensify when one meets in person and has been able to pick up far more communication signals than when sitting in front of a sterile monitor. "We are thus looking forward to two investor conferences in September." Torsten Grede, Spokesman of the Board of Management, will present DBAG in one-on-one meetings and group discussions.

The first conference is the SRC Forum which brings together real estate and financial companies with specialised investors from these sectors, mainly from Germany and German-speaking neighbouring countries. "The interest in meeting with us has been high during the last year, and we are especially looking forward to the return of this conference, which we are attending for the sixth time," explains Roland Rapelius.

The Baader Investment Conference will take place in person for the first time in three years; DBAG's IR team will be travelling to Munich in the second half of September to attend the "BIC", which attracted 800 investors – virtually – from 30 countries in 2021, making it one of the largest German capital markets conferences.
Last but not least, the Investor Relations team will travel mid-October to meet investors in London and Dublin before publishing the 2021/2022 consolidated financial statements in December. Deutsches Eigenkapitalforum, the German Equity Forum hosted by Deutsche Börse, has been a must-attend for DBAG in the past ten years; this time around, however, it will take place without DBAG, since the date at the end of November is just before publication of the consolidated financial statements: DBAG will announce its figures on 1 December 2022 and discuss them with its analysts.