How to make that leap into the digital era? How are business models, operational processes and organisational aspects being transformed by new technology? For companies to be able to sustain their success over the long term, merely implementing a new software solution will not suffice. Rather, a fundamental cultural change is necessary – in all business processes – towards agility and automation. Cloudflight provides new and sustainable ways for its customers to shape the digital future along the value creation chain. How does it do this? First and foremost, by having a highly skilled and motivated workforce.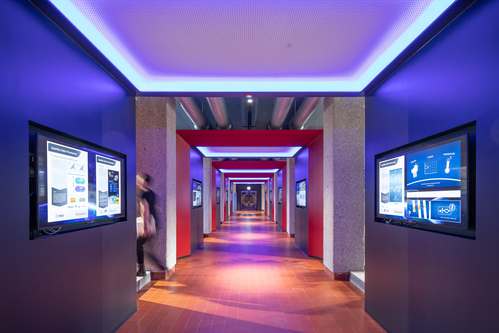 Satellite data enables us to monitor deforesttion and forest degradation in Africa. A digital equivalent of a waste incinerator avoids CO2 emissions during the burning of waste and helps conserve resources. Also: a start-up is looking to grow seafood sustainably in urban and desert environments. A listed satellite operator aims to exploit vast quantities of data, in a targeted manner. Sounds impressive? Cloudflight is looking at a very broad range of applications for its digital solutions. It is not always about the extraordinary, as in the four examples. Machinery and plant construction, transport, logistics and mobility – these are the areas where the majority of our customers come from. Cloudflight also supports public sector administrations and organisations.
The focus is on solving the customer's problems
In most cases, the processing of large amounts of data plays an important role. This data relates to areas such as the Internet of Things or artificial intelligence (AI), i.e. the recognition of patterns in existing data sets in order to independently find solutions to problems. In this context, each customer requires a customised solution. Since 2005, the software and IT services company and its predecessor companies have implemented more than 600 of these "made-to-measure" projects. The objective is always the same: Cloudflight wants its software products to contribute to the crucial applications and processes, products and business models of its customers, whilst giving them a competitive edge.
Number of employees growing by 20 per cent annually
Cloudflight now employs more than 370 people to fulfil this value proposition. "Our employees are our most important asset" – this is what many companies say. At Cloudflight, this is not just an empty phrase: after all, individual solutions require individual knowledge. Knowledge that needs to be constantly refreshed and updated. Knowledge that also needs to be shared. For this reason, Cloudflight places great emphasis on training and personal development. Attracting and retaining talent is one of the company's key strengths. While other companies, for example, pay close attention to their use of resources, workplace safety and customer satisfaction, among the most important non-financial performance indicators for Cloudflight are those relating to its staff.
Together with Linz-based start-up TeamEcho, Cloudflight – at first for its own purposes – has developed a smart system for measuring employee satisfaction, which can now also be used by other companies. It also gets recognised elsewhere. It has been named the "most family-friendly IT company" in Austria – which is where most of the approximately 400 employees work – by the kununu employer rating platform, and has also received above-average ratings on comparable portals.
Curious people make better employees
Continuous professional development is given high priority at Cloudflight: each employee receives up to four hours of paid learning time per month for independent and self-directed learning. This is in addition to the general training initiatives that Cloudflight organises anyway. This learning time can be converted into a fixed amount of money, which is available for personal professional development. Over the past year, the average time spent on training has increased by about 10 per cent. We want to achieve even more growth: "Like no other industry, the IT sector is characterised by incredibly fast innovation cycles," says Cloudflight CEO Dr Roger E. Kehl. "We can see technological paradigm shifts every two years – most recently we have noted that our clients attach a markedly higher importance to solutions with artificial intelligence. Our innovation radar needs to constantly identify the latest trends with business potential, so that we can then invest in the respective training of our employees. This is the only way to maintain our competitive position."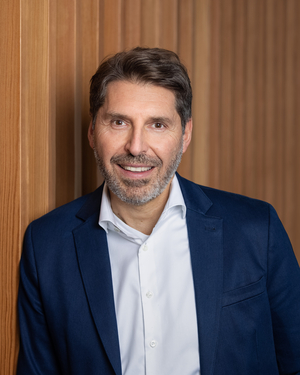 Dr Roger E. Kehl, Chairman (CEO) of Cloudflight GmbH
It is not only at Cloudflight that employees also seek personal fulfilment in their work and ask questions about why they are doing what they are doing, as many Generation Y employees do. Projects that are about sustainable business or environmental protection appeal to the needs of younger people, in particular. And they represent the majority at Cloudflight, where the average age is under 30 years. Working in this high-end tech environment, where the latest technology is being applied, is particularly attractive for career starters. Cloudflight's customers are often among the very best in their field. The list includes global corporations, market leaders and those at the forefront of innovation.
Entry opportunities for young programmers
Around 3,000 participants from 37 host cities, 13 countries and two continents, stretching from Germany to South Africa: The CCC (short for Cloudflight Coding Contest), one of the largest on-site coding competitions of its kind, held its 35th event on 5 November 2021. The contest mainly involves young programmers competing against each other in a level-based coding game. Most of them took part online again this year. Following on from last year's pandemic-related break, 275 participants returned in person at the Vienna City Hall Grand Ballroom to try their hand at completing the coding game. This autumn's CCC was all about artificial intelligence. An AI Challenge was launched to complement the existing "School" and "Classic" categories. The candidate or team that reaches the highest level within the shortest time wins.

The idea behind the coding competition is to work alongside other team members, within a four-hour time limit, and come up with practical, creative and/or entertaining software products. Just as in previous years, lots of the younger pupils attended the classic CCC in the afternoon straight after taking part in the school CCC that morning. Many of them were able to keep up with the older stu-dents or professionals with no problem at all.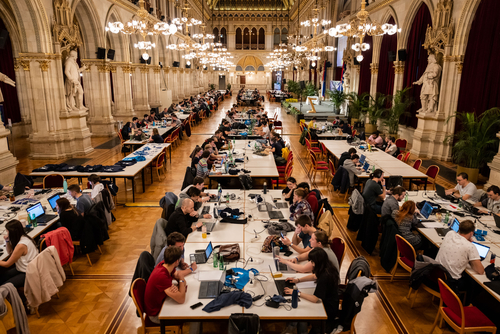 The Cloudflight Coding Contest now has its own Wikipedia entry, which ranks it as Europe's biggest coding contest.
Cloudflight first started organising the CCC in 2007 and has continued to build on it ever since. The aim of the competition is to increase the visibility of male and female pro-grammers around the world and to open up internship and entry-level opportunities. Indeed, just one local champion can gain global reach and recognition within the wider programming community. Each competition attracts more and more talent which we can all benefit from. And top talent is hard to come by in today's fast-growing demand for software developers.