Trotec: Family-owned provider of mobile and fixed air-conditioning solutions
Broader product range, greater geographical coverage and additional distribution channel
Attractive market trends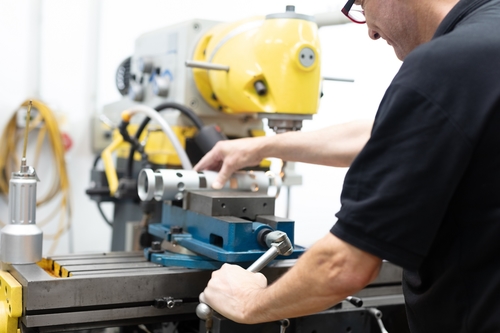 Frankfurt/Main, 10 May 2022. Dantherm Group (Dantherm), a company from DBAG Fund VIII's portfolio, and Trotec GmbH join forces: That's the outcome of a transaction the fund has structured recently. Trotec is a founder-managed company that manufactures and distributes mobile air-conditioning products. The transaction is mainly a leveraged acquisition. DBAG Fund VIII is also supporting the transaction with a capital commitment of up to 15 million euros, of which almost a quarter is attributable to the co-investment made by Deutsche Beteiligungs AG (DBAG). In the course of the transaction, company founder Detlef von der Lieck will retain a significant stake in the new group and sit on the company's Advisory Board.
In November 2021, DBAG Fund VIII (advised by DBAG) acquired a majority stake in Dantherm as part of a management buyout and invested 99 million euros, of which more than 22 million is attributable to DBAG. The opportunity of achieving a leading position in Europe via inorganic growth is a central element of the value appreciation strategy. The current transaction will expand the geographical market coverage and product range, as well as adding an increasingly important sales channel. Together, both companies generate sales of approximately 360 million euros, employing 950 staff.
Trotec (www.trotec.de) develops, produces and distributes mobile and fixed dehumidification, cooling, heating and ventilation equipment, as well as air filters, which are used in industry, trade and by private customers. The company generated revenues of around 170 million euros in 2021 with these and other products. It also benefited, as did Dantherm (www.danthermgroup.com), from the pandemic, which had increased demand for air filters, among other things. Trotec was founded in 1994 and today has 350 employees at locations in ten countries, the majority of which at its headquarters in Heinsberg (North Rhine-Westphalia).
Whereas Dantherm supplies primarily business customers, Trotec's private customer business accounts for nearly one-third of the company's revenues. With a successful multilingual online portal, the acquisition extends sales opportunities for Dantherm, whose business is conducted largely through wholesalers and other stationary forms of distribution.
The market for mobile and fixed air-conditioning equipment is growing by between four and six per cent annually, thus outpacing GDP as a whole. Climate change and the wellness trend, as well as stricter regulations for more efficient energy use, drive market growth.
"Dantherm and Trotec are a perfect fit," Dantherm CEO Bjarke Brøns commented on the transaction. "The merger offers considerable opportunities, in light of the different market channels, broad product range, the technology platform and synergies in the combined supply chain." He further said: "And we see great growth opportunities – organically in our business and inorganically in the implementation of our acquisition strategy." Trotec founder Detlef von der Lieck added: "I am delighted that Dantherm and Trotec are joining forces with DBAG Fund VIII as a strong shareholder. This promises excellent prospects for the employees and the company that I founded nearly 30 years ago."
"We are delighted that we have once again earned the trust of a company founder who sees DBAG as the best partner for developing his company," said Jannick Hunecke, member of DBAG's Board of Management, also in view of DBAG's four latest investments that were also agreed with company founders.