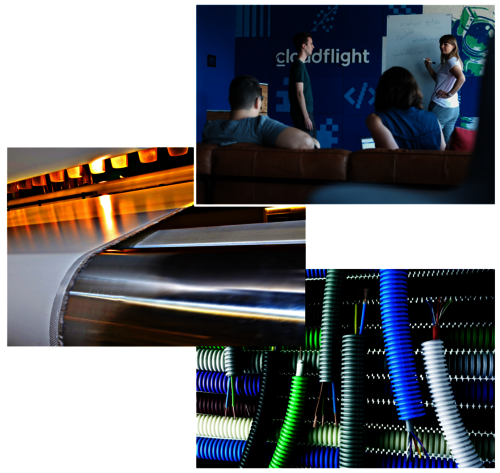 Cloudflight: Second disposal from the DBAG Fund VII portfolio
The sale of the Cloudflight investment is the second disposal of a management buyout (MBO) from DBAG Fund VII's portfolio. Since 2016 the fund had built up a portfolio comprising twelve companies. The sale of the investment in evidia (previously blikk group) was the first disposal from DBAG Fund VII's portfolio. The shares in the company will be sold to Partners Group.
The successful disposal also underscores the good progress DBAG has made in the IT services & software segment. Having built up extensive know-how as well as a strong network, DBAG has now executed six investments in this segment; the share of this segment in DBAG's total portfolio value has quadrupled over the past two years, from 5 to 20 per cent.
Cloudflight is one of the leading full-service providers for digital transformation in Europe. With more than 950 qualified staff in software development, cloud architecture, data science and strategic IT, the company enables successful digitalisation for its customers. Having further expanded its technology portfolio through the integration of Cognostics, macio, Divante and mogree, Cloudflight now offers its customers an end-to-end service portfolio, ranging from consultancy services to the development of customer-specific software and cloud-native solutions, right through to operations.
"We successfully leveraged the team's entrepreneurial vision and the strong market growth momentum to build a European champion", Jannick Hunecke, member of the Board of Management of Deutsche Beteiligungs AG, commented on the disposal, adding: "DBAG's shareholders and fund investors are thus benefiting from our decision to increasingly focus on digital business models."
Pmflex: Third disposal from the DBAG Fund VII portfolio
Following the successful sale of Cloudflight in November 2022, DBAG Fund VII succeeds in selling Pmflex, the third sale from its portfolio. Their shares in the company will be sold to Hager Group, a leading provider of solutions and services for electrical installations in residential, commercial and industrial buildings.
The successful strategic development of Pmflex over the past two years was defined by gains in market share, driven by strong demand from existing and new customers. This allowed Pmflex to expand its leading position in numerous European markets. The pre-wired conduits supplied by Pmflex shorten installation times for electricians significantly, thus offering cost benefits for new construction and renovation projects alike.
"The success of this transaction underlines the strategic decisions taken over recent years. Broadening the regional reach of our investment strategy to include the tradition-rich industrial landscape of Italy has opened up additional investment opportunities for us", said Tom Alzin, member of DBAG's Board of Management. Gianluigi Rapizza, CEO of Pmflex, added: "DBAG's sector expertise and its familiarity in dealing with family businesses provided a reliable basis for implementing our strategy."
Heytex investment sold – successful conclusion of DBAG Fund V
With the sale of Heytex, the last of originally eleven investments, DBAG has very successfully concluded DBAG Fund V in economic terms: overall, investors in the management buyout fund launched in 2007 will have received more than two and a half times their original subscriptions. This means that DBAG Fund V ranks amongst the most successful private equity investment funds in Europe for its vintage. Their shares in the company are to be sold to Bencis, an investor headquartered in the Netherlands.
Heytex saw an impressive strategic development during the investment period (2012 to 2022), with acquisitions playing a major role in this context. The company entered the US market through the takeover of an American competitor in December 2014. Furthermore, Heytex succeeded in turning around operations at its production site in China during this period. The 2021 takeover of Tencate, a market leader in the tents and marquees industry based in the Netherlands, marked a further key milestone in broadening Heytex's global production base, and supplementing the product portfolio. This enables Heytex, as the only supplier in this industry with production sites on three continents, to respond in the best possible way to the technical and regional challenges of its customers.