Deutsche Beteiligungs AG organised its first "DBAG Tech Roundtable" in cooperation with its portfolio company freiheit.com. The gathering of leading minds from what is probably the most sought-after sector took place at freiheit.com's offices in Hamburg, where more than 50 experts exchanged views and opinions on the current challenges and opportunities presented by digitalisation.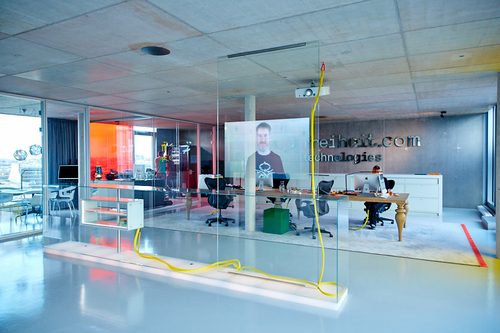 There were lively discussions going on throughout the event, allowing participants to gain interesting insights. Aside from all the networking and industry chat, there were three presentations: we have summarised the key points below.
Stefan Richter: Scaling software development
Stefan Richter, Managing Director of freiheit.com, outlined the remarkable journey of building a software development organisation – from a single programmer to a thriving community of hundreds of software engineers. His insights revealed the evolution from pure programming to a perfect harmony of creativity and collaboration. Richter's narrative underscored the transformative strength of fostering an engineering culture that facilitates growth, innovation, and excellence.
Carlo Velten: Leading the way – a journey into the future
Carlo Velten, founder of Atlantic Ventures, took our attendees on a remarkable journey – through a mind experiment that led them into the future. Disruptive trends such as artificial intelligence (AI) and changing political landscapes often evoke a wide range of opportunities, allowing us to think in different directions. In contrast, Velten offered a unique perspective by bringing the future closer to the present. In an interactive workshop, participants worked together to paint a picture of their everyday lives, using technologies available today. This exercise sparked insightful discussions about the wealth of possibilities already within reach, thanks to AI.
Markus Rautert: Mastering transformation – how IT evolves in a large corporation
Markus Rautert, SVP and CTO at adidas, gave a captivating talk about the transformation process a traditional IT organisation is undergoing within a large corporate group. Using vivid analogies and visual aids, Rautert provided the audience with an inside view of the intricacies of a company with sales in excess of 20 billion euros. Despite possessing no manufacturing plants, adidas manages to ensure that its latest products reach customers seamlessly, at the right time and in high quality. His presentation was decidedly encouraging for IT teams within large enterprises. Rautert emphasised that the challenges ahead can be overcome through modernisation and clear direction.
The first "DBAG Tech Roundtable" provided a platform for industry leaders, experts and enthusiasts to explore new concepts, share experiences, and discuss ideas. DBAG would like to sincerely thank all speakers, participants and contributors for making this event a success.