In our series "Ten Questions to...", a DBAG team member gives you an insight into his or her department and explains what distinguishes the respective area of responsibility and what opportunities and challenges exist.
Who are you and what do you do at DBAG?
My name is Yasmin Behboudi, I have been part of Deutsche Beteiligungs AG since 2021. I am part of the HR team, which I have additionally had the privilege of leading since last year.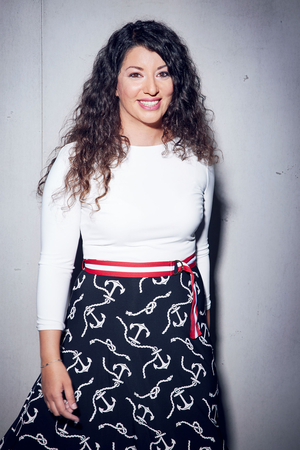 What sets DBAG apart as an employer and how do you stand out from the competition?
The short answer would be "more than private equity". The longer version is that we always keep and maintain certain values at our core. On the business side, these are excellence, integrity, respect, transparency and innovation. If I look at this question from an employer's perspective, there are plenty of overlaps there: we always act on an equal footing with applicants, embrace an open communication style, and promote independent action, which in turn pays into our entrepreneurial investment approach. We focus highly on our most valuable asset – our colleagues – and I think we have been very successful in this respect. This includes an open-minded, feel-good atmosphere, the opportunity to get involved quickly, short decision-making processes, and attractive benefits.
What is a typical day like in the Investment Advisory team?
There is no such thing – and I am very happy about that. Routine would be boring. There are, of course, recurring processes and tasks, such as in the area of the valuation process and due diligence, but it is only the framework that remains, the content changes constantly, and so do the tasks, which I appreciate, and I think the team does too.
Which skills are particularly exciting for you?
In addition to the typical skills in the areas of finance, strategy development, and business management, technological skills are demanded. A knack for entrepreneurship alongside with an analytical and strategic approach is one of the classic tools in the investment business. These basic requirements are still in the foreground and are crucial in our day-to-day business. In recent years, we all have increasingly read about the growing importance of soft skills. However, due to the nature of our work and the direct exchange with entrepreneurs, these have always been relevant as well. In addition to this are industry-specific experience, knowledge and skills derived from our sector focus. Our team has to meet a wide range of requirements – here we rely on colleagues who bring diverse skills and backgrounds. For example, the Investment Advisory team is not only made up of people with investment banking and M&A backgrounds – some of our employees previously worked in industry or strategy consultancies.
What does your recruitment process look like?
We are the oldest and largest private equity firm in Germany, especially in this light, we are very proud that despite our size and the high requirements of our business, we were able to keep our recruitment process very lean. Once the process has started and the mandatory initial profile review has taken place, we invite candidates to a first interview. Depending on the role, there are differences between Corporate Functions and the Investment Advisory Team. For Corporate Functions roles, an initial interview takes place, before the second round is about going deeper into the respective role. The last step involves a final interview, followed by the preparation of the offer. The process for roles in the Investment Advisory Team is structured differently. We conduct a so-called "Super Day" together with the candidate, involving all relevant stakeholders, and a case study that concludes the process. We keep our recruitment process short on purpose, in order to be able to make a decision in less than a month if possible.
What do you do to support a work-life balance?
Regardless of the pandemic, we have created a modern work environment. I think that the experience of the last few years has clearly shown that physical presence and success do not necessarily correlate, to that extent we offer mobile working, and also equip our team accordingly. At the same time, I think we all enjoy the regular and personal exchange with our colleagues, and by the way, we have a modern office with by far the best panorama. To recharge the batteries, we also offer 30 days of vacation, and on your birthday DBAG gives you an extra half day of vacation. For colleagues who like to work out and or relax at wellness, there are subsidized memberships in gyms.
How do you support families in the company?
We have a strong understanding of the performance that our team provides and are very grateful and also proud that we can always rely on each other. And just as our company can always be sure of the support from the team, so can our colleagues. Welcoming a new family member like this brings with it a lot of change, and in order to create the necessary freedom here, we recently introduced extended parental leave. In concrete terms, this means that employees who are expecting a child can be given paid leave for up to six months - in addition to any government subsidies. In addition, we subsidize childcare costs and provide kindergarten places at partner facilities.
What career prospects and training opportunities do you offer?
At Deutsche Beteiligungs AG, everyone is in the driver's seat of their own personal development is concerned. That may be a bit exaggerating, but it hits the nail. Two members of our Board of Management joined the company as interns and have continued to develop their careers in the Investment Advisory Team at DBAG. However, there are also careers at DBAG in which a change to other functions has taken place. For example, an assistant to the Board of Management recently moved to our Human Resources department due to further professional development, and another colleague joined the Investment Advisory team as an analyst after working as a student trainee in our Investment Controlling department. While we support professional development on an individual basis as needed, there is also a DBAG-wide program that all colleagues across all our locations go through. However, we are always in close contact here and plan individually and together.
How do you try to inspire women to join your company?
Just under 50 percent of our team is female, but we nevertheless want to see more women at the helm, right up to decision-making level. In this respect, we are involved in the Level 20 initiative, which was founded in the UK in 2015 and is committed to promoting women in the European private equity industry. Together, we are aiming for at least 20 percent women in senior positions within the industry. However, we are going one step further, because our efforts to increase the proportion of women already start with campus recruiting. In addition to our regular events in cooperation with universities, we also facilitate direct contact with us at dedicated Women's Events. Here we look forward to an exchange with interested female students in summer on our roof terrace.
Do you offer extra-curricular activities in which employees can participate? Also, in sustainability?
My colleagues from the PR department would now jokingly say that PR stands for parties and relaxation. We love what we do and are passionate about it. Employee events are part of this and have a high priority for us. These include "small" celebrations, such as company successes, summer parties, and of course a Christmas party. In between, there are many events, some of which we organize ourselves, such as a skiing holiday, company outings and company runs. What comes in addition is, as a firm we are involved in various sustainability projects, such as Hessen Forst or Soulfood Forestfarms, and also ask our team to participate.