In our series "Ten questions to...", a DBAG team member gives you an insight into his or her department and explains what distinguishes the respective area of responsibility and what opportunities and challenges exist.
Who are you and what do you do at DBAG?
My name is Melanie Wiese and I've joined Deutsche Beteiligungs AG in January 2023 serving as its Chief Financial Officer.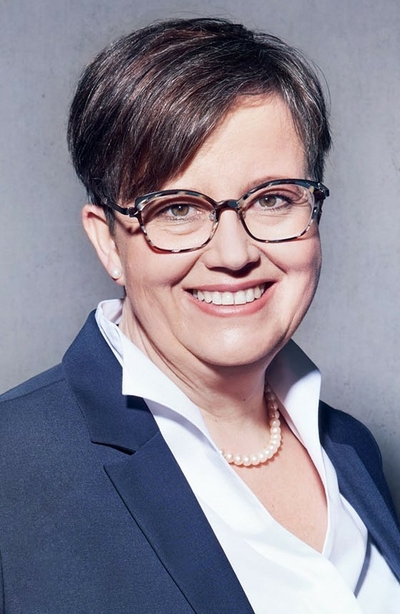 What exactly does a CFO do at DBAG?
As DBAG's CFO, I am in charge of the financial health of the company. Together with my talented team, we are responsible for tax, legal, compliance, IT, risk management and organization. We manage budgets, prepare financial reports and forecasts, and work closely with other departments to ensure the company stays on track. In short, I am the company's financial strategist.
Why did you choose DBAG?
The company has an excellent reputation in the industry, and I wanted the opportunity to work with such a talented and passionate team that has built that reputation. I was also impressed by the company's vision and long-term strategy.
In politics, they talk about the first 100 days - how did you experience yours?
My first 100 days at DBAG were very exciting and challenging. I had to quickly familiarize myself with the culture and processes in order to fulfill my role as the CFO in the best possible way. But I was fortunate to have an incredibly talented and supportive team, as well as the entire organization, on my side, which helped me settle in very quickly.
What does the typical day-to-day life of your team look like?
Our day-to-day business is a mix of strategic meetings, budget and financial planning, data analysis, and alignments with other departments. We ensure that the company is optimally positioned on a financial level. In addition, we also take care of assessing and continuously updating risk management, providing legal support for the funds we launch, and dealing with IT and IT security. In addition, there is a lot of drive - in this respect, it never gets boring and we have to be able to react and make decisions quickly and according to the situation.
What experience have you had before?
My experience ranges from preparing financial reports and forecasts to leading finance teams and supporting M&A processes. I worked in various industries and companies before joining DBAG. Most recently, I worked for energy companies, but before that I also worked for an automotive supplier and a management consultancy. Through these previous experiences, I have been able to gain a broad set of skills and experiences in different industries and also processes, which also go far beyond a sole financial context. For me personally, it is incredibly important to have an overarching understanding of processes and value creation in portfolio companies as well as in DBAG - in my opinion, this is the pretty much the foundation of an active collaboration and value creation.
What skills are needed to steer DBAG successfully?
For me, collaboration is paramount. It's incredible how much knowledge and expertise we have in the various teams. For me, the greatest success is when we unlock this value by working beyond silos and hierarchies and thus create an atmosphere in which everyone contributes and participates. For me, that is the be-all and end-all, empowering us and unleashing the potential that lies within each of us. It goes without saying that decisions have to be made. I made very good experiences with setting the tone at the beginning of the process, and then things get started. Of course, the expertise must not be missing - but that's obvious.
How do you manage to motivate your team?
I think motivation comes from creating a positive work environment where employees and that their contributions to the success of the company are valued. I believe in the positive energy that helps to let everyone feel comfortable. Of course, this is not always the same with different characters. This is where I actively invite to open hours and involve employees. My experience is that the "loudest idea" is not always the best. There are many techniques that can be used in the dynamics of a team and help us all. Of course, this is not always a guarantee and in the end we all have to learn to deal with candid feedback and also to take action. For me, being consistent means being clear, addressing difficult things and working on them together.
How do you try to inspire women to join your team?
As an employer, we have created an inclusive and diverse environment where everyone is equally represented. Our current recruitment process ensures that a broad range of talent is targeted, and this is reflected in both applications and our workforce. Just under half of our team is female and we are committed to becoming more female right up to management level. We encourage and support these career developments. In addition, we actively reach out to students, and also look forward to dedicated Women Events on our beautiful rooftop terrace. These are all measures we take to encourage women to get involved in the finance industry. In addition, we also offer mentoring and training opportunities to encourage women on our team and help them achieve their career goals.

What is your vision for DBAG?
Our vision for DBAG is to continue to be a leading player in the financial industry and to inspire our customers through excellent performance and innovative solutions. In doing so, we also ensure that we as a company live up to our social and environmental responsibilities and integrate sustainable practices into our business strategy. We foster a culture focused on integrity and accountability, where every employee has the opportunity to reach their full potential. We believe that by implementing this vision, we will not only achieve our goals, but also have a positive impact on society and our employees.
What are the biggest challenges you are currently facing as CFO of DBAG and how are you dealing with them?
The market is currently facing some challenges driven by the macroeconomic situation and sustainability factors, but we also see these as opportunities for further development and growth. We know that in a fast-changing world, flexibility and adaptability are more important than ever. That is why we are continuously developing our business strategically. We also adapt to technological innovations and changes in the market in order to take advantage of them. This puts us in a position to be competitive in the long term. And as Albert Einstein said, "In the midst of difficulties lie opportunities." We see the current challenges as an opportunity to improve and grow our business. We feel well prepared to achieve our goals together with our strong team.