A lot of information is available for free
Deutsche Beteiligungs AG regularly informs its shareholders and stakeholders about current developments in its portfolio, but also about trends in the private equity market. Beyond this offering, there are plenty of information providers that cover private equity issues, backgrounds and market data, or, for example, highlight specific aspects of the buyout business. Most of these providers use a variety of publishing channels to distribute their information; for example print, online platforms, podcasts, videos or electronic newsletters. However, it is not only the form of presentation that varies, but also the degree of specialisation. We have compiled some particularly recommendable information providers and formats on the subject of private equity.
Private equity for the ears: podcasts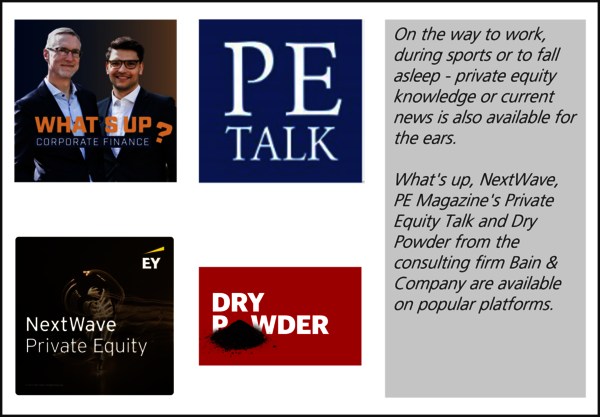 The German-speaking podcast What's Up Corporate Finance? by financial journalist Philipp Habdank went on air a year ago and positioned itself in a niche – after all, the private equity podcast scene is dominated by English-language formats. Every fortnight on a Friday, Habdank and invited sector experts talk not only about private equity issues, but also about private debt and banking. The podcast discusses personnel matters, provides background information on private equity deals, and explores the latest market trends. In terms of content, the discussions with experts from the corporate finance scene are highly specialised. Nevertheless, Habdank manages to present the topics in such a way that even less experienced listeners can follow well. His ambition: "I want to provide exclusive background information on deals, fund raising, and personnel matters." Habdank emphasises the importance of not only describing, but also explaining. Prior to joining What's Up Corporate Finance, he worked for many years on the editorial team of the FINANCE trade magazine on the topic of private equity and established close ties there. This is paying off. The discussions take place in a more relaxed atmosphere, and Habdank is on first-name terms with most of his interviewees.
The podcast Private Equity Talk by the Private Equity online magazine, operated by law firm Pöllath & Partner, is much more difficult to digest – but no less informative. The audio content is mostly in German and deals primarily with current tax and regulatory issues of the investment and transaction process. Episodes last around 20 minutes and are hosted by the authors and contributors to the magazine and internet portal: the law and tax experts of Pöllath & Partner.
With Dry Powder, the consulting firm Bain & Company offers one of the podcasts with the broadest reach. In his English-language audio contributions, Hugh MacArthur, Head of Global PE Practice at Bain, picks up market trends and current market figures and discusses them with Bain's in-house experts on the basis of specific questions. Recent episodes have dealt, for example, with "tech due diligence in the deal process" and the question of how ESG strategies can be managed in portfolio companies.
Unlike their counterparts at P&P and Bain, EY doesn't rely solely on expertise from their own ranks, but regularly invites representatives from the private equity community to their podcast Next Wave Private Equity. Winna Brown, FAAS Private Equity Leader at EY in the US, together with her guests, discuss the central future trends in the private equity sector such as ESG, SPACS and strategies for value creation at portfolio companies.
Fast and up to date: news platforms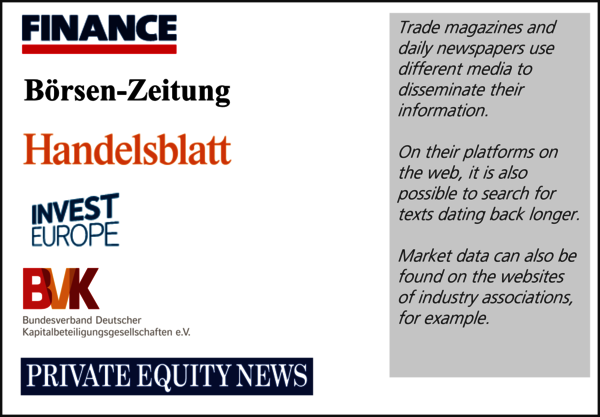 The news platform of FINANCE magazine, from the F.A.Z. specialist publishing house, provides the latest information on PE transactions and personnel matters. The Private Equity category also provides explanations from financial investors of basic PE concepts and strategies. The editorial team regularly summarises the most important news from the German M&A and PE scene. In contrast to most other providers of industry news, the focus is not on the mega deals in the sector, but on the German SME business. Together with DBAG, the editorial team of the FINANCE magazine surveys investment professionals twice a year for their market assessment and publishes the results in the Midmarket Private Equity Monitor. In addition, all buyouts with German participation and a transaction volume between 50 and 250 million euros are compiled in the Mid-market Buy-out List. "Over the years, we have built a solid database, which, in addition to providing a snapshot, also shows long-term developments in this non-transparent market," says Olivia Harder, private equity editor at FINANCE. Harder and her colleagues are closely connected within the scene. "This allows us to go in-depth into the subjects. For exciting transactions we pick up the phone to obtain first-hand accounts of the deal," says Harder.
Daily newspapers such as Börsenzeitung and Handelsblatt nowadays also offer well-researched articles, especially on private equity transactions with German participation. While almost all Börsenzeitung articles are paid content, Handelsblatt publishes some contributions free of charge on their website. Handelsblatt editor Peter Köhler has been writing about the financial world for the publishing house for 22 years. His extensive interviews with PE investors are a special highlight.
For the Anglo-Saxon perspective, we refer to the digital news platform Private Equity News from the Dow Jones Media Group. From London, it provides its readers with news about funds, transactions, personnel matters, analyses and interviews. However, only a few articles are available free of charge, while the newsletter and magazine are accessible to subscribers only.
For detail enthusiasts: data providers and research
The first point of contact for data on the European PE and VC market is the European private equity and venture capital association Invest Europe. The association collects and analyses figures on fundraising, investments and divestments from more than 1,800 companies in Europe. The database – which represents 91 per cent of European private equity and venture capital assets – feeds the "Annual Private Equity Activity Statistics" and a separate evaluation for Central and Eastern European companies, which is also accessible to non-members. "The Private Equity at Work Report was initiated three years ago and measures current employment and job creation throughout Europe, which is unique in our sector," says Eric Drosin, Director of Communication at Invest Europe. In addition to market data releases, the newsroom also contains opinion pieces from the sector's thought leaders.
The German counterpart to Invest Europe is the Bundesverband Deutscher Kapitalbeteiligungsgesellschaften (German Private Equity and Venture Capital Association – "BVK"). The association publishes data for the German market in a semi-annual statistic. Together with Germany's public sector development bank KfW (Kreditanstalt für Wiederaufbau) and the Deutsche Börse Venture Network, the BVK also publishes the German Private Equity & Venture Capital Barometer, which aims at reflecting sentiment in the German early-stage and later-stage private equity market.
Financial information provider Morningstar offers data on venture capital, private equity and M&A via its fee-based data platform PitchBook. Market and sector analyses are published on the website. Moreover, PitchBook offers a daily newsletter.
If you need a good overview of senior debt LBO financing in Germany and further European countries, MidCapMonitor by Houlihan Lokey is what you're looking for. The investment bank surveys all unitranche and subordinated debt transactions in the European mid-cap LBO market. Users receive the list by entering their address data.